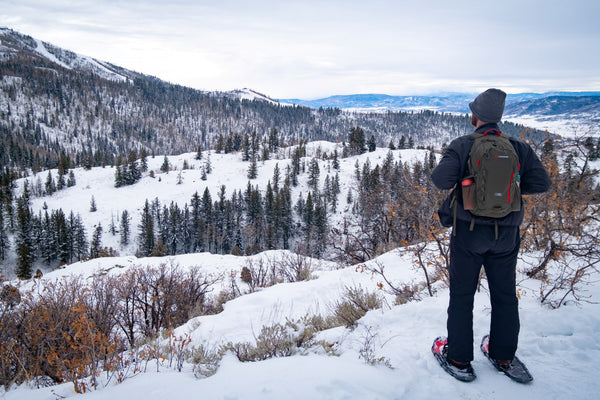 The Best Hiking Backpack - Caribee X-Trek 28
The Best Hiking Backpack 
Author: Jason Kraemer
Avoiding international travel to limit the spread of Covid-19 meant this winter was perfect for exploring domestically. From the east coast of the US I headed off for a few months in the Rocky Mountains and some much needed outdoor time. For the last 3 months I've been hiking, skiing, and snowshoeing in Colorado.
With a winter full of outdoor activities choosing the best hiking backpack was paramount. I wasn't planning any multi-day hikes or camping so my focus was a day hiking backpack. I needed a reasonably sized bag to fit all the gear for a day outdoors including snacks, water, extra layers, and personal items. It also needed it to be light enough to carry all day and rugged & durable to keep up. 
I had used my Caribee X-Trek backpack for a few urban trips and short hikes so I knew it was a great size as a daypack and had all the features I would need. A winter in Colorado felt like the perfect place to use it as my go to daypack. 
The size of the backpack is exactly what you want for a full day of outdoor exploring or hiking; 19" H x 12" W x 8.5" D. The 28-liter capacity meant room for the essentials; snacks, water, and extra layers plus plenty of space for additional items. Comfortably having the packable space for backup winter clothing was perfect. 
The main bucket compartment is spacious and easy to stash your gear in. The backside features a built in hydration bladder sleeve with a pass through slot on the top. For a couple extra-long hikes it worked really well having a large hydration bladder combined with a large water bottle. The few times I've used the pack for urban trips the hydration sleeve doubled as a laptop holder. A rolled sweater in the bottom created a nice base for my snacks, extra clothes, and bottle to rest on. 
The front organization compartment has pockets to stash your small accessories like keys, wallet, or phone. This is another area that makes the bag great to use for urban travel, but when hiking I primarily stashed energy bars and my wallet/ keys here. You could absolutely fit more in this pocket if needed, there's plenty of space for a small packing cube or items like extra gloves. 
The outside of the bag is durable and refined. One of the best features are multiple anchor points to hook on additional gear - perfect for long hikes. Side compression straps keep the entire bag compact when fully packed and parallel side water bottle holders give you quick access if you aren't using a hydration bladder. 
The Caribee X-Trek is surprisingly compact for the volume. It sits close to the body and the padded back panel and straps make it comfortable to wear all day. The sternum strap keeps it secure when you're on the move. 
The material and construction is solid all around. I loved some of the smaller touches like finger loops on zippers so you can open pockets with gloves on. I used this daypack 5 days a week for months and saw little signs of wear and tear.
While equally appropriate for urban day trips this bag really shines as a day hiking backpack. It's comfortable to wear long term, the perfect size to carry everything you need without adding unnecessary weight, and loaded with simple but functional features to stay organized. Check out the full detailed product review from my hands on testing and ownership. 
Author Bio:
Jason Kraemer is the co-founder of Flashpacker Co, a US based lifestyle brand and e-commerce site specializing in high quality, thoughtfully designed travel gear.