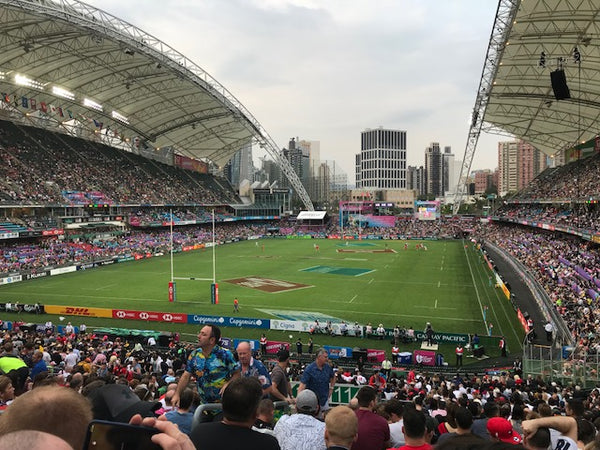 The best airline carry on bag
The Hong Kong Seven's had always been on my bucket list and when the opportunity arose this year to attend with some mates, I wasn't going to pass it up. Being a three day event the total trip was going to last six days including the travel (a day on each end), so selecting the right travel bag was essential. The goal for all attendees was to travel as light as possible in order to speed through checkin and be quick off the plane on the other side. 
I had long admired the Caribee Sky Master 40L Carry on bag but had never had the opportunity for use one for an extended trip away. The most my bag had travelled was an overnight trip to Melbourne and Brisbane, so I was keen to see how it would perform on a longer trip.
The bag is a great size, measuring 54 x 33 x 18cm and providing about 40L of packing space, this should give me plenty of room for enough clothes for four days on the ground in HK. Opening the bag, you are greeted by a handy split level design with zippered mesh dividers on both sides. Immediately I proceeded to pack smaller items like my socks, underwear, cap and toiletries in to the smaller top compartment that secured these items nicely and kept them organised.
The larger lower main compartment of the bag would cater for my clothes as well as a change of shoes (I hear the South Stand at the stadium can get a little messy by days end). Out of habit, I always pack my shoes first (in the lowest part of the bag) as they are heavy and always provide good stability for the bag once packed. Each shoe is used to store power adaptors, changers and a plastic bag for the inevitable dirty laundry that will appear as the journey proceeds. Above this I had ample room for jeans, shorts, shirts and a jumper just in case the weather turns cold. Sure enough the Sky Master 40 held all my gear with some room to spare.(handy for the return trip when I am never as neat)
The best feature of the Caribee Sky Master 40 Carry On has to be the versatility of how you can can carry this bag. If it's your only travel bag, then the side carry handles and padded shoulder strap provide you with great movement and flexibility as you wander through the terminal to the departure gate. However it's the concealable shoulder straps located in the back panel that really provide the knockout blow to other carry on travel bags. If you need to keep your hands free, these shoulder straps provide great comfort whilst converting your carry on bag in to a carry on backpack, it's just genius. 
I forgot to mention, the front zippered pocket came in handy for my passport, ticket, phone and book. All were very easy to access before and during my flight.
How was Hong Kong, amazing. The Sevens tournament was more than I could expect, the atmosphere was electric and the vibe from all the attendees and locals was amazing. If you are considering it, definitely give it a go, you will not be disappointed, just don't forget your Caribee Sky Master 40 Carry On bag.