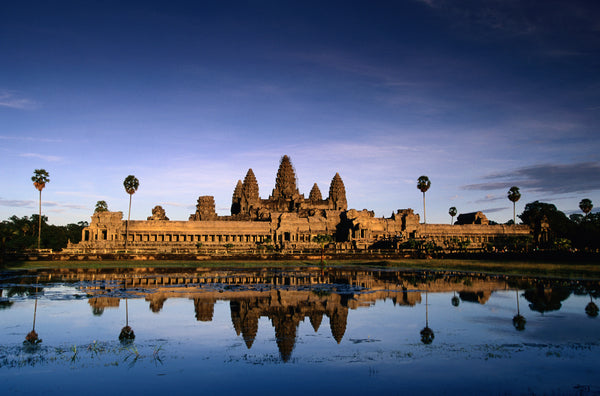 Angkor Wat and my Caribee Sky Master 80L
When you are a traveller that likes to head off the beaten track it is very important to be prepared for the unexpected. Being prepared means, having the correct gear on hand and that refers to clothing, luggage, medicine and technology.
I recently travelled to Cambodia to visit the famed ruins of Angkor Wat. Not being to Cambodia before, it was important to take the right style of luggage that would allow me to adapt to my potential travel situation. The Caribee Sky Master 80L wheel travel pack was high on my list of necessities due to its rugged construction and design versatility by way it can convert from a wheel bag to a functional travel pack.
Flying via Singapore from Sydney, the eleven and a half hour transit time reminds you just how isolated this country still is from the rest of the world, considering how easy it is to get to most of Asia from Australia. I caught up on some sleep and finished books that I was always meaning to complete and the Sky Master's handy detachable daypack was a perfect bag to use as airline carry on. In fact the multiple storage pockets that this daypack has, makes it one of the best I have used.
Whilst you can take an overnight bus from Phnom Penh to Angkor Wat, I elected to take the short 40 minute flight to the park. Leaving at 7:30am the flight provided great views of the Cambodian countryside. Nothing can prepare you for the beauty of the site as you also reflect on how this amazing temple was built some 900 years ago.
Angkor Wat is an enormous Buddhist temple complex that was originally built in the first half of the 12th century as a Hindu temple. Spread across more than 400 acres, Angkor Wat is said to be the largest religious monument in the world. The word "Angkor" means "capital city" in the Khmer language, while the word "Wat" means "temple." The structure was built by Emperor Suryavarman II, who ruled the region from 1113 to 1150, as the political centre of his empire.
I spent the day exploring this amazing site, followed by the next six days visiting various parts of Cambodia. My selection of travel bag did not disappoint as on more than one occasion I had the Caribee Sky Master up on my back when the terrain looked to tricky to pass using just the bags wheels. Being prepared for your adventure is my number one tip, and the Caribee Sky Master wheel travel pack is a great travel companion for most adventures.