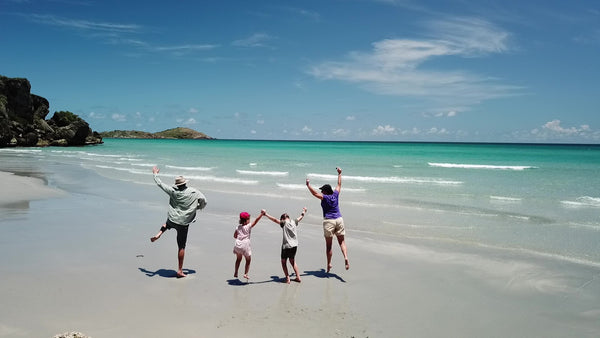 Lost and Loving It
We are Joe, Noela, Rob and Abby; the adventure loving Australian and world travelling "Lost and Loving It" family. 
We realised early on, that we did not want to lose the best parts of our young children's lives on endless chores, over committed jobs and debts; so instead we decided to pack up our lives and launched ourselves into full time family travel.  We share our families' fun, experiences and travelling tips on our Travel Blog, as we just say YES to adventures, NO to regrets and give our kids the best education and childhood that we possibly can.
Our family travels so far have connected us with locals and with experiences that are beyond what we ever dreamed of.  Our kids have learnt first-hand the Aboriginal traditions and cultures, when we were specially invited out to visit a remote and isolated Indigenous homeland community of Arnhem Land.  Our kids have fossicked for 100-million-year-old marine fossils with a paleontologist, and had the time to sit, enjoy and play on the most pristine and untouched beaches of Australia.  Our next family adventures where we get "Lost and Loving It" are taking us to experience the excitement of the North and South Island of New Zealand, and to the vast cultures and scenery of the South American continent for 6 months of overseas family backpacking. We have chosen #caribee gear as not only are they Australian, but their luggage and backpacks are second to none.
We experience the positive benefits of a family travelling together every day, and truly love to inspire other families with our Blog to travel more in Australia and overseas.   For our next adventures, we have teamed up with Caribee to test if their luggage and travel set ups will hold up to the ultimate family test: to keep up with our busy and adventure loving family! 
If you would like to be more "Lost and Loving It" too, we'd love to hear from you, and for you to connect with us on our Travel Blog and social media channels. 
Happy adventuring!
www.facebook.com/lostandlovingit1
www.instagram.com/lostandlovingit1
YouTube: http://bit.ly/2F7PErx