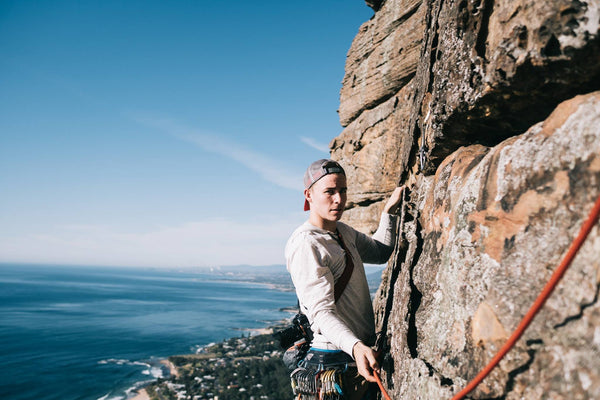 Ben Hackett: @adventure_never_stops
I am a 23-year-old Australian self-taught adventure photographer based in Camden NSW situated perfectly between the beach and the bush. My captures comprise of various styles of adventure including canyoning, rock climbing and hiking. Also love to capture lifestyle and coastal images usual with an adventurous twist. @adventure_never_stops
Some of the current Caribee products that I use and trust with my expensive camera gear are:
Trident 32l waterproof bag
This one has been with me the longest and also had the most abuse. The go anywhere, do anything kind of back that will keep your gear high and dry, quite literally (it floats). Sliding, jumping and swimming through some of the most iconic canyons in the Blue Mountains including Calustral and Butterbox it is still going strong, I constantly get asked about it and how I manage to carry my camera and lenses through such tough environments, well this is your answer.
Caribee X-Trek 40l backpack
This is now my go to bag for every adventure that is every changing and normally in my car packed full ready to go. From photography loaded full of lenses filters and my tripod or drone to climbing packed full of rope and other gear it is the most comfortable back I have ever owned with great back support and surprisingly lightweight with the amount of features packed in. I'm yet to find a compromise as there are with many bags.  As an outdoor adventure photographer I am used to compromise, the photography specific bags are never as comfortable and near have a place for food and water always limiting the distance you can hike with these. This bag has two expandable bottle pockets one that normally carries my tripod and the other a bottle. It also has large enough pockets on the front to actually be usable and fit food for the day. Also what a lot bags lack comfortable and secure chest/waist straps which are especially important when you're hanging 80m above the ocean at Point Perpendicular taking rock climbing photos.